Miyake, Paris
International fashion week is over. This means little to many, and a lot to very few. The majority of people may loudly assert that they know nothing of fashion and care nothing of labels, and care even less about what they put on in the morning. Although aware of the existence of catwalks, as it comes up in a trashy magazine urging the purchaser to 'get the look' by consuming the Primark equivalent, they will have no interest in actually watching a whole runway. If by chance they do catch a glimpse of a starving something flaunting the latest unaffordable odd-looking creation, they will be instantly turned off. They will think: that does not relate to me, perhaps that relates to an art student come fashion blogger living in Shoreditch or a fashionista/oil princess living in Chelsea, but those clothes are nothing to do with me, what I wear or how I present myself to the world.
Of course this is wrong because these catwalks will filter down into the mass-made mid-range circuits in a years' time, and in two years the very same public will be coveting those styles with a disinterested enthusiasm. They may have no flair or style to speak of, but if they shop in Primark, Topshop, H&M and Zara regularly, they will more often then not, be just as much of a clone to a mass-produced catwalk inspired style as a Shoreditch fashionista with huge glasses, an over-sized denim jacket with a vintage jumper and an ironic watch.
It is the Devil Wears Prada scenario – a young beautiful intelligent non-fashion orientated woman begins working to a fashion house – and believes that she has nothing to do with this whole fashion world (as if that would ever happen). Meryl Streep puts her straight.
Meanwhile catwalk fashion is an elitist's game, and many spend much to conquer it. However, I would like to contest that fashion is not only for the elite despite the elite price tag.
Catwalk fashion is art on a body, it is style inspiration and above all it is a story of humanity and culture. In my ideal world everyone would dress like they are on a catwalk, but that is because I intensely love art, stories and decoration. I do think that whatever your uniform, whether you covet basics: jeans & t-shirt combos, uggs or hot-pants with tights (so naughties) catwalks can inspire you and inject a moment of hedonistic excitement when you create your morning ensemble.
These are my favourite inspiring catwalk looks this season!
Prada's latest ready to wear in Milan
Prada celebrates woman's sexuality in the work space. Tight clothes are flattering, pencil/midi skirts are all the rage and off the shoulder has never looked so appealing.
For a great midi skirt for work try our
Jigsaw skirt
for £17
Valentino's latest ready to wear in Paris
Collars, collars, collars. They have been filtering their way down to the masses - and the must-have motif is here to stay. Valentino is now obsessed and I love how it can give a professional edge to a floaty dress or jazz up a basic high necked blouse. Fancy a collar? Try one of our
collars
handmade!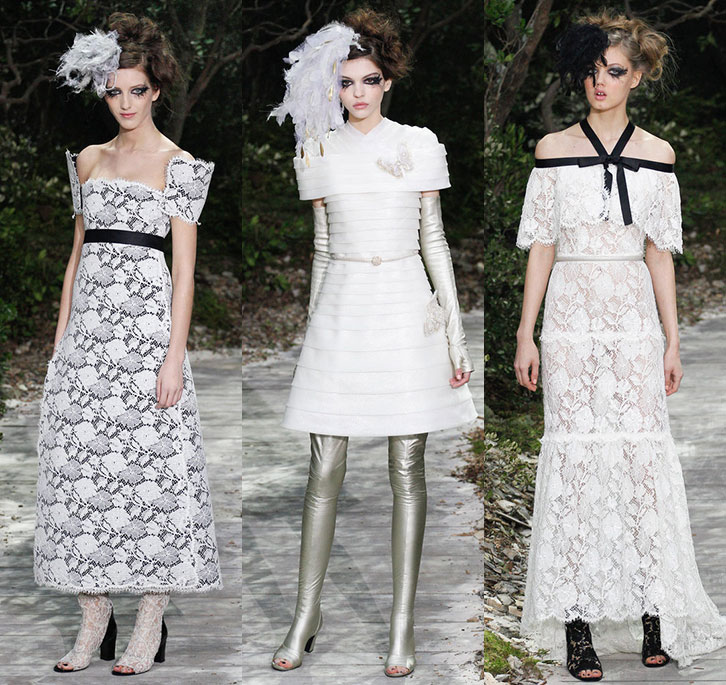 Chanel, New York
The Chanel catwalk was full of tweed ensembles with leather leggings meets shoes, and black feathers head-pieces - it shouldn't have worked - but it did. Karl Largerfeld transformed these motifs to make a gothic meets lady-like statement. Scary yet demure, how 'Devil Wears Prada' is that! Karl also reinvents off-the-shoulder- structured with layers so the illusion of a flattering off-the-shoulder exists, while still keeping warm during the winter months. This
dress
, with the right layers, will get you your off-the-shoulder fix. Team with
black fake leather leggings
for Karl inspired styling.
Burberry, London
The pencil skirts reigns supreme during Burberry. As does metallic and brown. The earthy browns are just pink enough to challenge 'boring brown nausea', managing to be skin complimenting, flattering and dazzling us with it's shiny texture. Fancy a Burberry Mac without the Burberry price tag? We have that
Burberry Mac here
.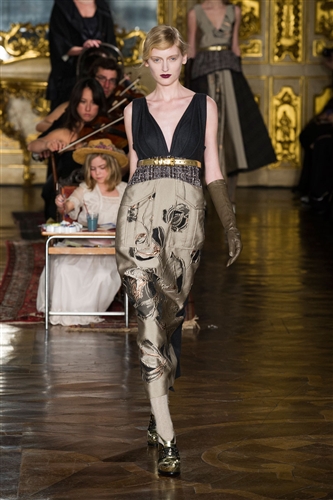 Antonio Marras inspired by Bloomsbury
Everyone that truly knows me, knows I am very much inspired by the iconic aesthetic of the Bloomsbury group, especially Virginia Woolf. Which is why I was so excited when I saw Antonio Marras and Cynthia Rowley's latest fashion offerings. The shapes, silk and prints were exquisite and made Bloomsbury 21st century wearable. If you fancy a bit of Bloomsbury style yourself, why not check out
our collection
?
Armani's latest Milan Catwalk
While we're on the subject of 1920s, be inspired by Armani's latest catwalk. Mohair, turbans and cloche hats. Fancy a 1920s hat yourself? Try our
Sandra Philipps
version.
By Rosalind Kendal